Not so great news for German fans. The Hamburg show on the 29th which had already been pushed back from the 23rd due to the rescheduling of the London shows, ended 1 hour into the set when Homme collapsed on stage and was carried off. Troy came back on 15 minutes later and announced Homme had not regained consciousness hence ending the night.

According to QOTSA.com, Homme was diagnosed with "exhaustion and ordered to bed by a local doctor". The site also reports that "He has been performing every night on this tour despite his physical condition (due to a knee operation less than a week before he left for tour), and it finally caught up with him. He is resting now and in stable condition."

As a result, the Stuttgart show on the 30th has been cancelled with Interscope stating that it hopes to reschedule this date.

German site vision.de reports that Interscope has stated the collapse was likely due to a combination of high temperatures topping 40 degrees celsius, inadequate nutrition and touring stress.

No news yet on coming shows in Wiesbaden (Aug 31st) and the 3 Day Festival in Austria (Sept 1st).

Get well soon Mr Homme.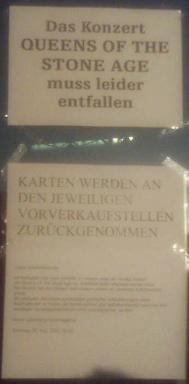 Photo courtesy of: Sebastian Boschert.




Sources:
Punters on the board
QOTSA.com
Visions.de



Fun Machine surfaced! 25 August, 2005



Queens played a gig at Brixton Academy this week where they also handed out 7"'s with a rerecorded version of 'the Fun Machine Took a Shit and Died', a song nicked from their studio during recording.

Homme recently spoke about the song during an interview with Pitchforkmedia:

"..we re-recorded parts of 'The Fun Machine' and we're putting it on a 45 and giving it to all the kids we canceled on in Europe. So it's coming out in little pieces."

"it's about 15 minutes long, but it's about 15 different parts. It sits for a minute or something, and then it revisits things in different tempos. We re-recorded through my cassette player. It's a badass cassette player. It's the truth, actually. That's no lie."

Given as way of apology for cancelling 4 times in the past, the release also features spoken commentary by Homme himself and all pieces were individually signed by the guys themselves. There's a couple going on auction on ebay right now.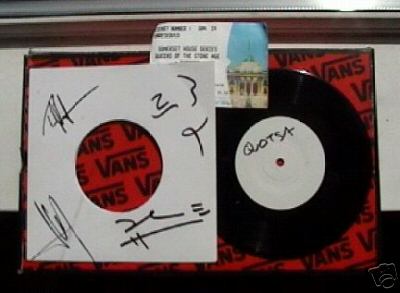 (nicked from ebay).

The song is currently floating around on the web ripped from vinyl.

Check out the rest of the Pitchforkmedia article.

Triple J's Impossible Music Festival 24 August, 2005



Australian music station Triple J are throwing the ultimate music festival - the lineup being decided by voting from listeners. Broadcasting will happen this weekend and a Queens set is amongst the kicking lineup. Their set from the 2001 Melbourne Big Day Out will be played at 2PM (AEST) this Saturday the 27th and includes 'Feel Good Hit Of The Summer', 'Monters in the Parasol' and 'Regular John'. Plenty of other good sets during the course of the weekend too.

Check out the rest of the lineup.

31 punters 'slightly' injured on gangway collapse at Frequency Festival 21 August, 2005



A gangway at the Frequency Festival near Salzburg in central Austria has collapsed, affecting 31 people. This gangway led to the stage where QOTSA were playing at the time it collapsed. "None of the injured was in a serious condition with most suffering fractures and bruising, Gerhard Huber, the head of the local Red Cross, told the agency APA. Eleven have been taken to hospital, he said."

Hope you guys out there are doing ok.
Source: a shitload of sites.

Homme drops by Tool shop 21 August, 2005



Adam Jones (Tool guitarist) has posted up photos of the Tool recording sessions of late during which a number of visitors have dropped by including Homme.

More photos on Adam's blog.
Cheers to: James (rimb).

Studio Brussell Acoustic Session 21 August, 2005



Whilst on a visit in July to play the Werchter festival, Troy and Josh played a two song acoustic set at Belgium radio station Studio Brussell consisting of 'The Long Slow Goodbye' and a 'jazzy' version of 'No One Knows'. The tracks are streamable from the station's website (click on the link titled 'Luister').


Cheers to: Die-hard Pete from Belgium.
Queens to guest programme Rage 19 August, 2005

Australian music tv programme Rage will air a selection of videos chosen by the band themselves. This time, it looks like it'll be Troy, Josh and Joey - awesome! Josh and Nick last programmed in 2003 (check out the links below) and it went down a treat so make sure you tape this one.

The show is due to air at 12:10 am AEST this coming Sunday morning (Aug 21) on ABC. The playlist is now available.






2003 snippets | 2003 playlist

Meniscus, I thought that was the curvy bit between fluid and the edge of a glass? 18 August, 2005



Apparently it's also the bit of cartilage that cushions your bones at joints. Don't tell me we don't educate you here at the fade. So why should you care? Because your beloved Mr Homme has had knee surgery after tearing it on stage in Australia. Apparently a common sports injury but requires minimal strain on the legs including avoiding standing on uneven surfaces, the band have decided to troop on, declining to cancel their UK shows. A spokesperson for the band has stated "The tour will continue because of the band's refusal to separate themselves from their Mistress of London. Queens Of The Stone Age are doing this tour for the fans of the UK that have already endured five cancellations."

Darn tootin'! Here are the UK dates:

Aug 22 Brixton Academy, London
Aug 23 Koko, London
Source: NME.



Homme-age to the Pixies 16 August, 2005



On August 1st, BBC's Radio 1 broadcast the first Pixies UK interview in 13 years with supporting bits and bobs including an interview with Homme about why he digs the Pixies so much.

Homme's interview.



Homme's Favourite Collaborations 15 August, 2005



Josh Homme picked his favourite tunes from people that he has collaborated with, recently broadcast on Australian radio Triple J show Mel in the Morning. The list:

Mark Lanegan - 100 days
PJ Harvey - The Horse Hustle
ZZ Top - Brown Sugar
Foo Fighters - Exhausted
Death From Above 1979 - Black History Month
Ween - Captain

Stream the show.



Homme working on Death From Above 1979 Material August 5, 2005



"Queens Of The Stone Age frontman Josh Homme has been spending his time remixing Death From Above 1979's material as of late. A remix of 'Black History Month' is already circulating, while a remix of 'Romantic Rights' is expected to surface shortly."
Source: 93x.com.



Joey Castillo: 'Hey kid, you're good' July 27, 2005



Nick Hodgson of the Kaiser Chiefs has expressed admiration over Joey's drumming style:

"KAISER CHIEFS star NICK HODGSON is terrified of performing at festivals over fears other bands will criticise his drumming skills.

The I PREDICT A RIOT hitmaker played at Ireland's Oxegen Festival earlier this month (09JUL05) and stepped up his pounding power when he realised QUEENS OF THE STONE AGE's sticksman could be watching in the wings.

He says, "I always hit them as hard as I can and then sometimes when you're playing and you know that Queens of the Stone Age are on the bill and their drummer, who I won't even know the name of is watching."

"He's one of the best and he hits his drums so hard, and I wanted to hit my drums really hard so that if he saw me, he'd go to me afterwards, 'Hey kid, you're good.'" "
Source: contactmusic.com.



Famous Last Words July 7, 2005



Just when we thought there could not be more said on the subject, Josh decides to let out a bombshell, confessing his real reason for releasing Nick from Queens. In an interview on Radio 1 with Zane Lowe (displaying the fine journalistic technique of covering-his-arse), Homme hesitated for much of the interview choosing his words careful before finally stating that he had fired Nick after finding he had physically his (Nick's) girlfriend.

" A couple years ago, I spoke to Nick about a rumor I heard, I said, 'If I ever find out that this is true, I can't know you, man.' ... Because music and my life are the same thing, there's no rules until something massive happens. [Nick] was over here [England] with Lanegan and something happened again, and he almost didn't make it out of the country. And that's something where you just, sometimes you're last act as a friend is just to say 'Goodbye'. Because that's not music anymore. It has nothing to do with music. It's this inexplicable part where music peals off from life. And it's just life, and it's just the crap side of life sitting there."

Homme also gave his reasons for why he had withheld the real background to his decision, being that he'd hoped Nick would be able to have time and privacy to deal with his problems and to keep their friendship in tact:

"I've never really come out and just said 'Hey, this is why I fired Nick'. And it's made it hard to keep that secret, cause on one hand I want to protect my friend from himself, and give him a chance to get him some, I dunno...And now he's playing in the Dwarves I guess."

"when you're taking rocks for not saying something and some of the rocks come from the person themselves, you start to wonder why you're even keeping yout mouth shut. For me this is a particularly weird time because I ...I don't see why I'm protecting anyone but myself and my family you know, or why I shouldn't just protect myself and my family and just let everyone else take responsibility for their own actions."

"You know what, it's not about clearing myself, it's about everybody taking responsibility for their own things."

The two have stopped communicating. "We don't talk any more," he told the Melbourne Age recently. "There was a moment where there was an attempt, but that didn't last. I was trying."

Soon after the interview, Homme released a statement on the QOTSA site:

"To set the record straight: Zane lowe did not push, coerce or manipulate me into speaking the truth about my reasons for firing Nick Oliveri ... When the truth came to light for me, I thought that the immediate firing of Nick would be explanation enough. I was nieve [sic]. Now my only hope is that the revealing of this situation does not inflict pain the way internalizing it has, for all involved. Conspiracy & adjectives be damned. I will never speak of this again."

Full interview transcript
Sources: Radio1 Interview Stream | the Age interview


.:Previous News:.